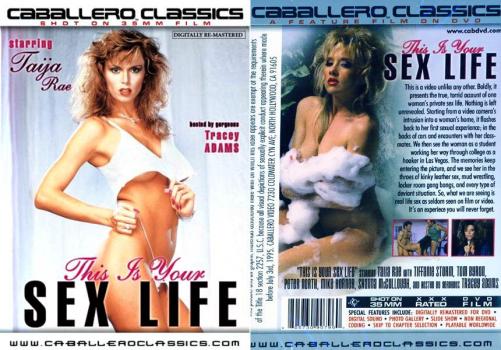 Year: 1988
Directed by : Gerald Wayne
Cast: Honey Wilder, Taija Rae, Tracey Adams, Tiffany Storm, Shanna McCullough, Jane Davil, Brooke West, Laya Downing, Tom Byron, Peter North, Mike Horner, Herschel Savage, Gerald Wayne, John Reno, Nick Savage, Nina DePonca, Taylor Evans .
Description:
Welcome to 'This is Your Sex Life,' the hottest game show on television! Each week one lucky guest gets to relive the steamiest moments of their life so far – and to get in on some all-new thrills in the process. Tantalizing Tracey Adams plays the hostess of the passionate program, leading buxom beauty Taija Rae through a series of searing sexual flashbacks. Taija closes the show off with a raucous romp opposite well-equipped stud Tom Byron. Before that explosive finale, though, we're treated to some equally feverish work from Taija's come-hither co-stars. Shanna McCullough delivers the flick's hottest moments, an opening blast with Peter North and a steamy girl-girl grope – both scenes find Shanna at her youthfully scrumptious best. Tiffany Storm shines in the video's most over-the-top frolic, a blistering foursome in which Tiffany more than handles a trio of piston-pumping hunks. It's a non-stop, action-packed look at game shows the way we all wish they were!
Download:
filejoker.net/hh0iontghnz5/thiisyouselif.part1.rar
filejoker.net/ezkpom9l8m1x/thiisyouselif.part2.rar
or
k2s.cc/file/c2f327dc10e4a/thiisyouselif.part1.rar
k2s.cc/file/ed8b1e03b6978/thiisyouselif.part2.rar