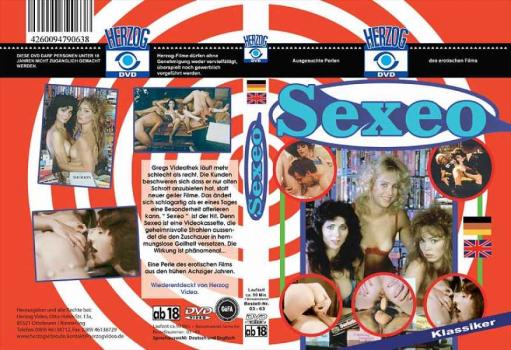 Director:
Drea
Plot:
A magical porn tape hooks Keith with his wife Celia, Celia with friend Monica, Monica with her husband Robert, Keith's son and Robert with Keith's daughter, Monica with Keith's son. Keith and Robert then swing with Celia and Monica.
Cast (Credited cast)
Blake Palmer … Keith
Rick Savage … Robert
Heather Wayne … Celia (as Header Wayne)
Bunny Bleu … Keith's daughter
Robin Cannes … Monica (as Heady Lamars)
Billy Joe Fields … Greg
• Scene 1. Heather Wayne, Blake Palmer
• Scene 2. Heather Wayne, Robin Cannes
• Scene 3. Bunny Bleu, Greg Rome, Rick Savage
• Scene 4. Robin Cannes, Rick Savage
• Scene 5. Robin Cannes, Greg Rome
• Scene 6. Heather Wayne, Rick Savage
• Scene 7. Robin Cannes, Blake Palmer
Description: Greg is a porn store's clerk who narrates through a series of events that occur when Keith takes a porn tape called Sexeo, that promises to cause his wife Celia to sleep with him. Alas, Celia finds it so mesmerizing that she shows it to her friend Monica and a lesbian encounter follows. Keith's son and daughter then find the tape and it causes them to sleep with each other. Keith's friend Robert eventually joins in. Robert then uses it with his wife Monica, who later on sleeps with Keith's son. The two couples – Keith and Celia and Robert and Monica – then conduct a private swinger party.
Download:
filejoker.net/8rggfu4rnnhi/seeo85.part1.rar
filejoker.net/2fmblyi99c2u/seeo85.part2.rar
or
www.datafile.com/d/TVRNNU9EWTVPRGsF9/seeo85.part1.rar
www.datafile.com/d/TVRNNU9EWTVPVFEF9/seeo85.part2.rar
or
k2s.cc/file/a9703e48a7516/seeo85.part1.rar
k2s.cc/file/d5766081cb05f/seeo85.part2.rar